making processes?"

"If I had a listing of the computer program that controls the Minotaur, I might be able to work it out."

"I'll see what I can do."

That night Ariadne broke into King Minos' office and found a listing of the program. She brought it to Theseus the next day. He was happy to see that it was in a computer language he understood. He went off by himself and spent three days studying the program. When he returned he told Ariadne that he now knew how the Minotaur made its decisions, and he was ready to explain it to her.

"Okay," said Ariadne, "but try to keep the explanation simple because I know very little about computers."

"Actually it's not that complicated," said Theseus, "because, fortunately for us, the Minotaur is pretty stupid."

"First of all, it will be easier if we think of this as a game between me and the Minotaur. I'll divide the map into squares, like squares on a game board." Theseus drew light lines on the map and it now looked like the diagram above.

"First I take a turn, and I can move one square. Then, since the Minotaur can move twice as fast as me, he takes two turns. To determine how the Minotaur moves on each of his turns, simply follow the instructions on this sheet." Theseus handed her a write-up he had made titled 'Program for One Move by the Minotaur.' It's an overall summary of part of the computer program that controls the Minotaur.

PROGRAM FOR ONE MOVE BY THE MINOTAUR
Can the Minotaur move horizontally and get closer to Theseus? If Yes, go to Paragraph 2. If No, go to Paragraph 3.
Move Horizontally one square towards Theseus. Then go to paragraph 5.
Can the Minotaur move vertically and get closer to Theseus? If Yes, go to Paragraph 4. If No, go to Paragraph 5.
Move vertically one square towards Theseus. Then go to paragraph 5.
End of turn.
"So far, so confusing," said Ariadne.
"I realize that," said Theseus, "but here are some sample moves that will explain everything." He handed her yet another piece of paper which contained the diagram shown below.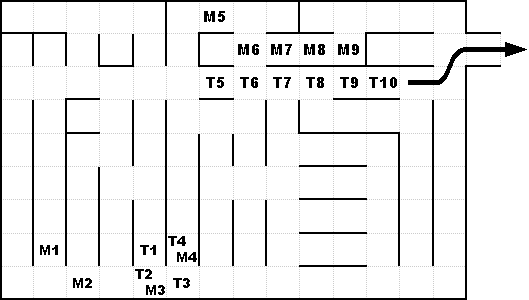 "Suppose Theseus is at the position labeled T1 (let's refer to me in the third person here) and the Minotaur is at M1. It's Theseus' turn and he decides to move south one square to T2. Now it's the Minotaur's turn. If we go twice through the Minotaur's program, we see that it would move to M2. If Theseus then goes to T3, the Minotaur would move to M3; and if Theseus goes to T4, the Minotaur would move to M4. The Minotaur is now on the same square as Theseus and would have captured him."
"I see," said Ariadne. "So, even though the program for the Minotaur is simple, it can be effective. I don't understand, though, why you say the Minotaur is stupid."
"Well," said Theseus, "for one thing it can't think ahead. Also its program has a minor flaw that I might be able to exploit: the program asks the question about horizontal movement before it asks the question about vertical movement. That causes the program to choose a horizontal move whenever possible, even in cases where a vertical move would be a lot smarter.
"Let me give another example. Suppose Theseus is at T5 and the Minotaur is at M5. If Theseus moves to T6, the Minotaur would move to M6. Now suppose Theseus moves to T7. To us humans it would appear that the best move for the Minotaur would be to move south then east to capture Theseus. But the Minotaur doesn't think that way. If you strictly follow the program for the Minotaur, you'll find that he would move to M7. Theseus could continue to T8 and the Minotaur would move to M8; then Theseus could move to T9 and the Minotaur to M9. Finally Theseus could move to T10 and the Minotaur would make no move. Theseus could then continue out of the labyrinth."
"You're right," said Ariadne, "the Minotaur does appear to act rather stupidly. It should be easy for us to figure out a path you can take through the labyrinth that will keep the Minotaur from capturing you."
"Okay," said Theseus. "Let's each of us work on this problem and we can meet tomorrow to compare our solutions."
They met the next day and were surprised to find that neither of them was able to work out a solution, and they were becoming anxious because the Great Festival was to take place in only two weeks. They both worked frantically on the maze and finally, on the night before the festival, Ariadne discovered the solution. She drew a route on the diagram and gave it to Theseus.
On the day of the festival, Theseus was placed in the labyrinth. He followed the route Ariadne had drawn for him and he was able to walk out of the labyrinth. King Minos declared that Theseus could go free, and Theseus and Ariadne left for Hawaii, where they planned to marry.
So, what is the route that Theseus can take to get out of the labyrinth? A few loose ends need to be cleared up: Theseus makes the first move and he must exit the labyrinth. He can't stay hidden behind a wall, for eventually he would starve to death. However, on any turn Theseus can choose not to move. In some rare instances it can be to his advantage to let the Minotaur take extra turns.
Probably the best way to work on the maze is to place one pencil on Theseus' starting point and a second pencil on the Minotaur's starting point. Take a turn for Theseus, moving one (or zero) squares. Then take two turns for the Minotaur by going twice through the Minotaur's program. This will result in the Minotaur moving zero, one or two squares. After you get used to the way the Minotaur moves you'll probably want to skip reading through the program. That's okay, but be sure not to move the Minotaur vertically when it's possible for him to move horizontally.
There's basically only one solution to the maze (which took me 4 hours to find!—Ed), but at some points there are alternate routes that Theseus could take. The solution involves between ninety and a hundred moves on the part of Theseus.
This story is an expanded version of a story from Robert Abbott's book Mad Mazes, published by Bob Adams Inc, 260 Center Street, Holbrook, MA 02343, USA.
---